Want More Reverse Mortgage Business
Than You're Generating Now?
Our reverse qualified lists including scrubbed landline phones, scrubbed cellphones and e-mails, will help you achieve more reverse closings. We have very competitive pricing, so check with us before you pay more than you have to.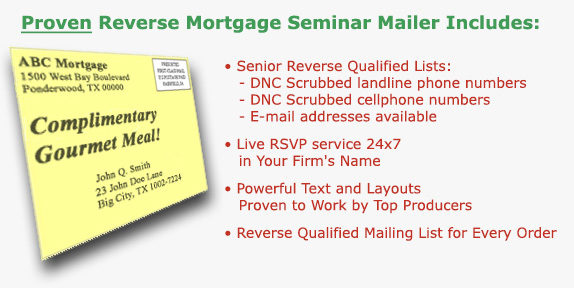 What We Do:
Reverse Mortgage Crowds, gives you more effective ways to find great clients with low-cost solutions that work!
Reverse Mortgage Crowds, has been specializing in marketing strategies for Reverse Mortgages to seniors for over thirteen years. Edward Waldman took 29 years of sales, marketing and public speaking expertise, plus his love for seniors, and molded it into Reverse Mortgage Crowds.
Ed specializes in accurate list sales of qualifying seniors (with scrubbed landline, cellphone and e-mails), precision seminar mailings and seminar presentation coaching. Ed has patiently assisted hundreds of individual loan officers and large companies with quick and easy implementation of programs to ensure success in the changing world of Reverse Mortgages. With the knowledgeable seminar execution, and cold call coaching plus e-mailing that Ed provides, you will improve your closing ratio even if you are a seasoned professional.
Reverse Mortgage Crowds, provides the most marketing, sales expertise, and support at the best price you will find in the Reverse Mortgage Marketing industry. Your return on investment is Ed's main concern because he wants your business over and over again.
Ed can help you get more qualified seniors quickly – either by phone, e-mail, mail or through seminars. Call him today - you will be glad you had a chance to speak with him.
Reverse Mortgage Crowds, gives you more effective ways to find great clients with low cost solutions that work!
What our satisfied customers are saying about our service:
"Ed Waldman and the entire team at Reverse Mortgage Crowds have played a vital part in the success of my Reverse Mortgage seminars over the past year. The guidance and support that I received from Ed, Tanner, and Jordan is second to none. The success that my partner and I have shared by holding educational seminars has catapulted our business to the next level. On Jan 1 2015 we took the next step in our careers and started a Reverse Mortgage division of Bayshore Mortgage Lending. Simply put, holding Reverse Mortgage seminars with the help and guidance of Seminar Crowds has opened up doors for our careers that otherwise might not have presented themselves. We look forward to continuing our partnership with Ed and his team for a long time to come. I encourage you to visit our Reverse Mortgage seminars Facebook page to see pictures from our seminars and industry updates. ww.facebook.com/reversemortgageseminars "
Steven J. Sless - Managing Partner, Bayshore Mortgage Lending

For help setting up your first mailing, or if you have questions, call
Edward Waldman, National Sales Manager, Reverse Mortgage Crowds
at 800-604-6535.

Please Read
Laws governing the content of advertising material vary from state to state. Also if you are affiliated with a NASD member firm you may be required to meet NASD regulations regarding the content of your mailers. It is your obligation to ensure that your mailer/invitation is in full compliance with all applicable state and federal laws, rules and regulations. Seminar Crowds Inc. (SCI) assumes no responsibility for the content of your mailer or compliance with applicable laws. Any forms, templates or suggestions provided by SCI are for convenience only and it is the mailers responsibility to ensure that his or her mailer fully complies with applicable law.